Typical Club Meeting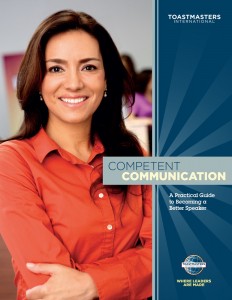 The purpose of Toastmasters is to help members overcome apprehensions about speaking in public and to improve communication skills.
This is accomplished by providing a self-paced, focused speaking program with a supportive, experienced group of people to assist you. This mutual support will help you become more effective in several skills, including formal public presentations, individual communications, impromptu speaking situations, managing and participating in meetings, and leading and managing people.
The process of developing these skills is through the typical club meeting, which is designed to provide an opportunity to practice various techniques in a variety of situations. A normal Toastmasters meeting will, therefore, contain a number of individual sections within the meeting, as described below.
Prepared Speeches
The first part of the meeting is assigned for members to practice their public speaking skills by giving a prepared presentation from one of the Educational Program manuals. Each project in a manual has a specific objective in an area that helps members practice different speaking techniques. The objectives are designed as guidelines to help you think about the various qualities that comprise a good speech. Some members may be just starting out while others may be more advanced. Remember, though all Toastmasters began just as you did and, as you learn from each project, you will be able to reach and exceed what you see in your first meetings.
Table Topics
In the second part of the meeting club members (and sometimes guests) practice impromptu speaking by responding to topic questions prepared by the Table Topics Master.
Evaluations
The third part of the meeting is critical for a successful session and it's where members practice their listening and evaluation skills. Assigned members will give evaluations of the prepared speeches and of the meeting as a whole. These evaluations provide feedback of how the evaluators saw the presenters and will point out the positive aspects of the speech and some possible areas for improvement. Good evaluations are the hallmark of good Toastmasters.
Roles in a Meeting
Other members fill a number of roles in order to help the meeting flow smoothly and improve the quality of the meeting.
The Toastmaster prepares and leads the meeting as "host."
The Table Topics Master leads the impromptu speaking portion.
The General Evaluator conducts the evaluation portion.
The Timer supports everyone by reminding them of their use of time.
The Ah Counter notes any word or sound used as a crutch, so speakers can become aware and correct them.
Business Meeting
The last part of the meeting is dedicated to club's business. At the same time, the club practices effective meeting management skills, so that business can be handled quickly and efficiently.
Next meeting
Club meets: 2nd and 4th thursday, 7 pm
Find us on  : Auberge de Jeunesse, 3 av Marcel Pagnol, 13090 Aix en Pce.
You Are Always Welcome
You are always welcome at club meetings. You may take part if you wish, or just watch and listen. As a guest you will be introduced so that the members of the club know who you are, and we encourage you to join us. The decision to take that first step toward becoming a better speaker, however, is entirely up to you.